A family atmosphere in a dream scenery
Il Defizio is a place full of charm where it is pleasant to stay even for long periods, surrounded by a special atmosphere of comfort and made of long-forgotten little things. At Il Defizio you can.
---
Il Defizio, B&B Country House
Il Defizio is the ideal place for those who want to stop in the refined simplicity of a country house where the day is marked by dawn, sunset and the scents of nature where you can spend days in total relaxation…
…Where in those lazy moments when time passes slowly, perhaps sunk into a comfortable sofa folds you can go back to read that book too long left on the bedside table…
…Where you can be caressed by the breeze that often accompanies and cheers even the hottest days…
…Where to free up the look that we will take you from the poolside to the city of Volterra, passing through the sweetness profile of the Tuscan hills that surround us…
…Where to take a bath in the pool of salt water that with its infinity point will give you the sensation of swimming in nature and where in the evening you can sit on the terrace and wait for the warm colours of sunset, perhaps glancing through the last pages of your book, where to sip an aperitif, whether it is one of our cocktails, a cool glass of white wine, sparkling wine or whatever you prefer…
…but also where you can have as background music only the chirping of the birds that in the evening come near our pool to drink!
Il Defizio is the right place where to retreat and relax, where you can also get back to dream. All your senses will be tickled to make you spend every day of stay, another unforgettable day of your vacation in Tuscany.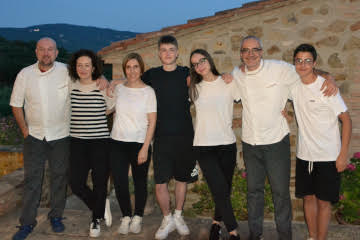 Cristina's smile, Roberta's warmth, Antonio's kindness, and Andrea's affability will welcome you and will be at your complete disposal so that everything is perfect.
NEW: EV Charging Point!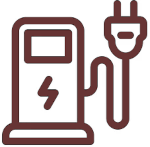 Guests arriving with their electric vehicle have no worries about charging their car! Relax and enjoy your stay, find your car fully recharged when you need it!

The charging station is Type 2, and only for the use of our accommodation clients.